AEROCUT ALL PURPOSE DRILLS eliminate the difficulties and problems when drilling stainless steel. Manufactured with powder metallurgy tips which are high temperature bonded to chrome vanadium steel bodies, the geometry of AEROCUT drills ensures problem – free bench drilling of stainless steel, always remembering that coolant must be used.
FEATURES
High quality all-purpose drills also provide excellent performance and long wear life for difficult to drill steels and ceramics.
The drill to use for those difficult jobs where standard drills fail.
Easily cut through hardened and mild steel, stainless steel, cast iron, non-ferrous metal, concrete, ceramic tile, marble, brick, masonry, glass, plastic, laminates, wood and particle board.
AEROCUT drills come in sets of 7 or 13 drills in either metric or inch sizes.
Packed in professional quality metal boxes with drill sizes clearly labelled.
Metric Sets:
3942S-7 Contains drill sizes 4mm, 5mm, 6mm, 7mm, 8mm, 10mm, 12mm
3942S-13 Contains drill sizes 3mm, 4mm, 5mm, 5.5mm 6mm, 6.5mm, 7mm, 8mm, 9mm, 10mm, 11mm, 12mm, 13mm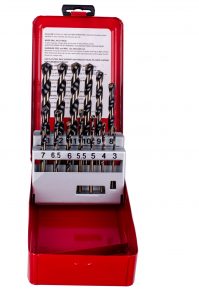 AEROCUT Set of 7 metric drills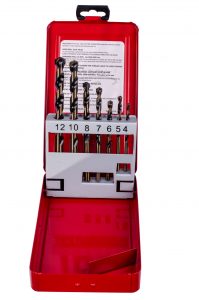 AEROCUT Set of 13 metric drills
Source: www.robinsoninternational.com.au