Various types of gauges are used for accurate measuring and testing.
CENTERING GAUGES are specially designed indicators for internal and external centering of jobs on machine tools.
• Can be used with machine spindle turning to allow speedy set up.
• Can be used vertically or horizontally
• Available with metric or inch reading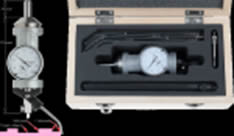 CENTERING GAUGE SET
CENTRE GAUGES Available in Whitworth, UN or metric measurements.
Centre gauges are used in machining to check angles of tool bits used to cut screw threads.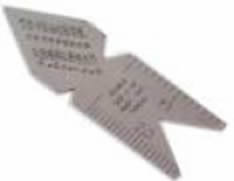 CENTRE GAUGE
RADIUS GAUGES come in various styles and are used to measure the radius of inner and outer surfaces of an object.
• Both external and internal radius on each leaf.
Inch radius sizes 1/32-17/64 and 9/32-33/64
Metric radius sizes 0.75mm-5mm and 5.5mm -13mm
• Separate leaves for external and internal radii.
Sizes: 1mm-7mm; 7.5mm-15mm;15.5mm-25mm
• Separate gauges for each radius.
Five measuring positions on each gauge.
Come in both metric and inch radii.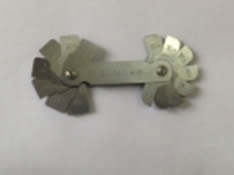 RADIUS GAUGE
SCREW PITCH GAUGES
Used to measure the pitch of a thread on a screw or tapped hole.
Come in Imperial, UNF/UNC & Metric Combination gauges in Whitworth/Metric and AF/Metric BA and ACME both inch and metric.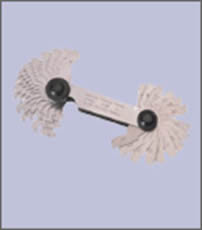 SCREW PITCH GAUGE
SCREW CUTTING GAUGES
Used for checking tool angles when cutting threads.
• Comes in Whitworth, Metric, UN, BA and Acme threads
• Made from stainless steel
• Satin finish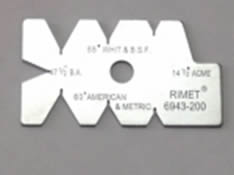 SCREW CUTTTING GAUGE
SMALL HOLE GAUGE
4pce set 1/8″-1/2″ capacity
These are used to measure the diameter of a bore by inserting the gauge into the bore and adjusting till light pressure felt. The gauge is then measured with a caliper or micrometer.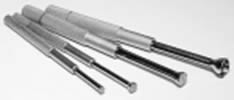 SMALL HOLE GAUGE
MORSE TAPER GAUGES
Plug & Ring Gauges MT2, MT3, MT4, MT5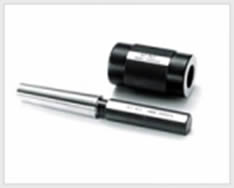 MORSE TAPER GAUGES
SURFACE ROUGHNESS GAUGES
• The surface roughness gauge set is a reliable and easy way for checking, identifying and specifying the degree of roughness of machined parts.
• The set contains thirty steel specimens of six machining methods: flat-lapping, reaming, grinding, horizontal milling, vertical milling and turning.
• Each specimen measures 7/8″ length x 3/8″ width and are calibrated in micro inch and micro meters.
• A chart giving metric and imperial equivalents for each surface roughness measurement is included in the set.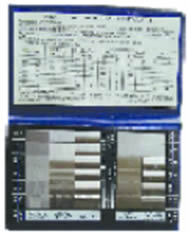 SURFACE ROUGHNESS GAUGES
SURFACE GAUGES
• Fine ground steel base
• Fine adjustment screws
• Available 4″/7″ and 9″/12″
Used to measure the height of objects in metalwork. The pointer acts as a scriber for marking out work pieces.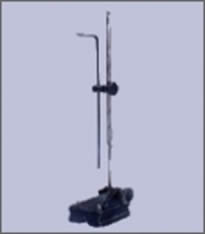 SURFACE GAUGES
MICROMETER CHECK SET
The components that the set can check are length, flatness and parallelism of measuring faces. With the addition of optical flats the ¼ turn parallelism can also be checked.
• The 6425S MICROMETER CHECK SET can check the accuracy of micrometers from 0-25mm capacity up to 200mm capacity.
• It can also be used for checking vernier calipers to the same capacity.
• The set is based on the requirements of ISO3611-2010 (AS2102 amended) with the inclusion of 50, 75 and 100 mm gauges to allow larger capacity.
All sets are packed in secure, attractive protective cases.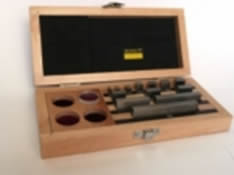 MICROMETER CHECK SET
GO/NOGO SCREW THREAD PLUG AND RING GAUGES
Used for checking, calibrating or setting of gauges.
SCREW THREAD GAUGES
• PLUG GAUGES from 1.6m to 355mm
• RING GAUGES from 2.00mm to 285mm
Available are gauges made to any tolerance grade in almost every thread type from any country or standard.
ALL GAUGES ARE SUPPLIED WITH TRACEABLE CERTIFICATES ACCEPTED UNDER ILAC AND MRA AGREEMENTS
• Gauge members are correctly heat treated and stabilised and have uniformly distributed carbides in a matrix of tempered martensite.
• Gauge members are size selected to maximum metal condition as this gives longer wear life.
• These features are only available from a maker with the highest precision measuring and calibration equipment and with independently assessed very small uncertainty of measurement.
PLAIN PLUG GAUGES
These are available in steel or with tungsten carbide Go member in sizes starting from 0.5mm upwards.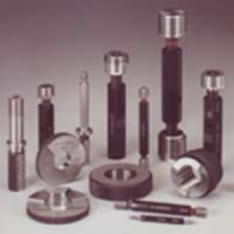 GO/NO GO SCREW THREAD GAUGES